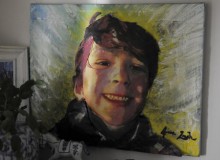 Today is December 14th.  As I reflect on life as we approach the darkest day of the year I think about the killings in Newtown, Connecticut a year ago today. 20 year-old Adam Lanza first killed his mother, Nancy.  He then took guns from the house and stormed into the Sandy Hook Elementary School.  He killed 6 adult women, including the school principal, and 12 little girls and 8 little boys ages 6 and 7, before killing himself.  This all occurred in a mere 11 minutes.
There continues to be huge debates over gun control and the accessibility of weapons and ammunition, the need for more mental health funding, and whether we need more or less government action.  However, there are two important issues that have gotten much less attention:
 The need to address the anger growing in the hearts and minds of young males.
 The need to address the fear in the general population.
Anger and Violence in Our Young Men
I still remember Patrick Edward Purdy, a 24-year-old drifter, who walked into a Stockton, California schoolyard in 1989 and opened fire with a semiautomatic rifle, killing five children and wounding one teacher and 29 other children. He then killed himself. The case drew national attention and led to a ban on assault weapons in California.
In 1999, 18-year old Eric Harris and 17-year-old Dylan Klebold walked into Columbine High School in Colorado and in a rampage of gunfire and homemade bombs killed 12 students and a teacher before killing themselves. The massacre led to an increased emphasis on security at U.S. schools.
Seung-Hui Cho, 23, a student at Virginia Tech University killed 32 people over a period of two hours in 2007.  He then killed himself.
Karl Pierson, 18, a student at Arapahoe High School in Centennial, Colorado, walked into the school on December 13, 2013 opened fire, critically injuring a 15-year-old female student before killing himself. 
It's important that we address the suicidal rage and that is at the core of the violence we are seeing in our young men.  In order to reduce violence, we need to address the feelings of hopelessness and anger that are present in so many young men today.  I've tried to shed light on these issues in my books such as The Irritable Male Syndrome:  Understanding and Managing the 4 Key Causes of Depression and Aggression and in articles such as Women Seek Help, Men Die:  New Findings on Depression and Suicide Will Save Millions of Lives.  All of us need more understanding and love, particularly young, angry males.
Love is Letting Go of Fear
I can't imagine and pain and suffering of families who lost a child in the killings at Sandy Hook.  Since hearing about the tragedy and the response of one family, I've been moved to tears repeatedly by their love, compassion, and hope for the future.  Scarlett Lewis lost her son, Jessie, on December 14, 2012.  She has moved beyond anger and fear and turned her grief and loss into positive action.
"Before my 6-year-old son Jesse Lewis lost his life at Sandy Hook School on December 14, 2012," she says, "he had written a message on our kitchen chalkboard: Nurturing Healing Love. The words 'nurturing' and 'healing' are a part of the definition of compassion across almost all cultures. 'Love' is the foundation on which happy and healthy lives are built."
"Inspired by Jesse's words, we formed the Jesse Lewis Choose Love Foundation," says Lewis.  "Our mission is to create awareness in our children and our communities that we can choose love over anger, gratitude over entitlement, and forgiveness and compassion over bitterness. Our goal is to create a more peaceful and loving world through planting these seeds of wisdom."
In reflecting on the young man who was responsible for the killings, her love and compassion are inspiring.  "My hope is that Adam Lanza is experiencing the same kind of love that the children are now, in heaven. He might have had a little bit longer journey to get there, but I hope he has."
Lewis believes that Lanza lived with years of pent up anger.  "I picture him being a little boy with a lot of anger and no tools and no nurturing environment to deal with it," the mother said.  Following the killings Lewis and her family were helped by survivors of the 1994 Rwanda genocide.  "It gave me perspective. If they're able to forgive – if they can actually do it – then it is possible in my own situation. It doesn't mean you're condoning what they did. It means that you're cutting the cord to pain," Lewis said.
Reeling from this personal tragedy Lewis' older son, JT, had the opportunity to Skype with orphan genocide survivors who had heard about the shooting and wanted to reach out to him. During the Skype call they told him that they were so sorry about what had happened to his brother and they shared their personal experiences of heartbreak where they watched many of their family members die. They told JT that through gratitude, forgiveness and compassion they have healed and are now leading lives filled with hope and joy. This started JT on his own healing journey and inspired him to give back to the people from around the globe that had reached out to him in love.
Knowing that these now young adults had no hope of going to college, JT set out to raise money to make their dreams come true. Several months after he began fundraising he was able to Skype back to the same group and announce that he had raised enough money to send one of them to college for a year. He has made the personal commitment to send this person to college for the remaining 3 years and hopes to do more.  He started the "Newtown Helps Rwanda" foundation to continue support. 
There are many story lines we can focus on as we remember the killings at Newtown.  The one that moves and inspires me involves a young boy named Jesse who was focused on nurturing, healing, and love, the day he helped other children and lost his own life.  It involves a mother who can have compassion and love for a disturbed, young, male killer.  It involves an older brother who reaches out to help survivors of genocide half-way around the world.  What does it inspire in you?
Related Posts: